Musashino Auspicious Seven Lucky Gods Tour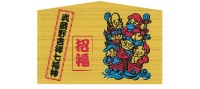 Tour of the Popular Auspicious Seven Lucky Gods feted in Japan's Traditional Folk Beliefs;
Pray for a year of good luck by visiting six temples and seven shrines around Kichijoji. Visit all of the temples and shrines on the list and have your signature board stamped with a read red seal at every stop.
About the Seven Lucky Gods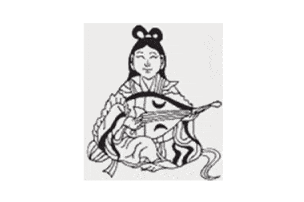 Luck / Treasure
The guardian angel for the water goddess and grain harvest; The Benzaiten goddess at Inokashira is an eight armed representation who bears the Ugajin (harvest & wealth god) on her head but holds no Japanese lute. This Buddha is completely withheld from the public.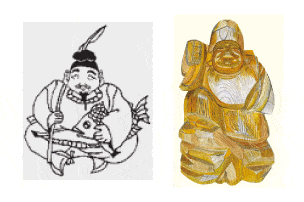 Prosperous Business
The Japanese traditional god Kotoshironusho-no-Mokoto God, son of Daikokuten God. Popular since old days as the Sea Guardian and God of Business Prosperity. The deity holds a fishing rod to fish for sea bream, a symbol of luck.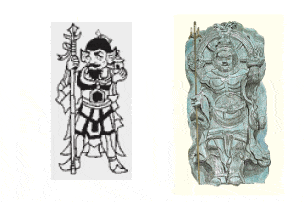 Happiness and Prosperity / Wisdom / Longevity
A god from India. One of the four heavenly kings, also called Tamonten (god of knowledge). The warrior with body-armor, venerated as the guardian of victory, answers 10 kinds of prayer (for happiness and prosperity, wisdom, long life, etc.).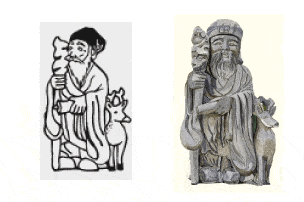 Happiness and Prosperity / Wisdom / Longevity
A god from China personalized as an old man squired by a deer. Jurojin God bears a rolled drapery inscribed with instructions on attaining long life by a secret art. His smile represents longevity.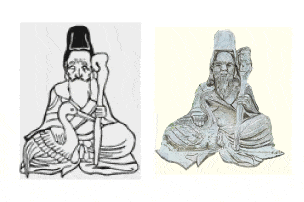 Happiness / Wealth / Longevity
A god from China, the avatar of the southern polar stars, with a bold head and long beard, squired by a crane. Fukurokuju God is over several thousand years old and attracts the faithful as a god of happiness and longevity.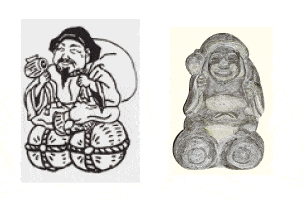 Treasure
A god from India; the Daikokuten God came to Japan through China together with Kotoshironushi-no-Mikoto. He became the god of production. Treasures jumps out each time he shakes the Uchide-no-Kozuchi (legendary magic hammer) in his hand.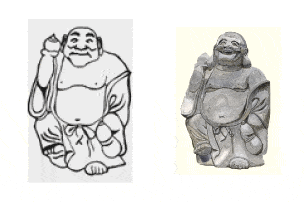 Treasure
The real-life Zen Buddhist from China. Hotei God is fat and always smiling. He holds a sacred gem (removed from his bag) in his right hand and a gourd in his left hand.
1.Inokashira Benzaiten (Taiseiji-Temple) Benzaiten Goddess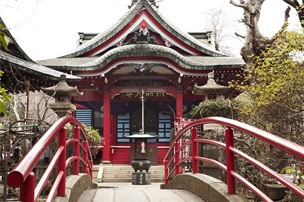 Inokashira Benzaiten was said to have been established during the Tenkei Era (938-946) by Minamoto-no-Tsunemoto, the patriarch of Kanto Genji who enshrined the Benzaiten Goddess Statue crafted by Dengyo Daishi in Enryaku-8 (789). Later, Minamoto-no-Yoritomo was said to have built the shrine pavilions to pray for the peace and quiet of the eastern part of country in Kennkyuu 8 (1197). As the story goes, victory prayers were performed when Nitta Yoshisada fought against Houjou, Kamakura in Shoukei 2 (1333).
In the Edo Era, Tokugawa Ieyasu modernized the water supply when he entered Edo. Water was channeled into Inokashiraike-Pond, the selected water source, from Kandagawa-River.
They say that Ieyasu visited this area several times in Keichou 11 (1606) to make tea with the water from Inokashira Pond. His handheld tea mill is still kept in Bentendou-Hall.
This area was used as a hawk-hunting ground in the age of Iemitsu, the 3rd General. It took the name "Inokashira" when Iemitsu visited in Kanei 6 (1629) to carve the characters "Inokashira" onto a magnolia tree at the edge of lake with his short sword. The lake (Well: "I-") was important because it supplied drinkable water to the people of Edo (Head: Kashira).
2.Kizuki-Taisha Shrine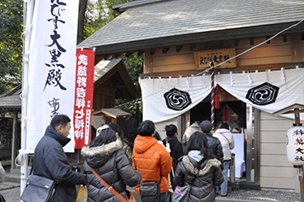 The shrine was built by Naomasa Matsudaira, the lord of Matsue Domain in the early Edo Era. Visitors come to pray to two lucky deities enshrined here. Daikokuten, the god of Great Darkness and Kotoshironushi-no-Mikoto, the god of Lucky Conquest and Marriage. The thousand gingko trees in front of the inner shrine grow well and have tremendous visual impact. People gather at a 10m high tumulus on the grounds to pray for recovery from sickness.
3.Enmeiji-Temple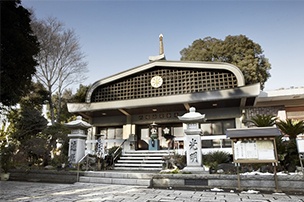 This is the Tantric Buddhism Shrine opened at the entrance to Sekimae-Village in 1670. The Buddha of Healing crafted by Eshin is enshrined here. She is never shown to the public. Two Kongo Rikishi statues, Agyo and Ungyo, glare out to visitors, not far from the wooden statue of the Peace Goddess of Mercy and the stone statues of Bishamonten God and Jurojin God.
4.Daihouzenji (Daihouji-Temple)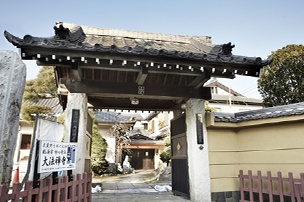 Daihouji-Temple was founded by Jinso Gitei Zenji in the Azabu district of the Edo Castle Town in 1633, after 30 years of rule under the Edo feudal government. The temple opened with an honorific mountain name, Kinkokusan.
Daihouji opened Jinso Gitei Zenji, the high priest, bequeathed preach of Zuigan Gensho priest, Jr., of Enjoji, in Matsue Castle townin current Shimane prefecture.
Later, as the town of Edo modernized, a growing number of clan persons took refuge in Buddha, including prominent feudal lords such as Abe, Matsudaira, Hosokawa, Hotta, Naitoh, Aoyama, Ii, Kamei, Nakagawa, Sakai, Moori, Arima, and Yonezu. Many descendants of famous military commanders and subordinate warriors with ancestral ties to Sir Fujiwara, Genji, Heike, etc. also made Daihouji their family temple.
The curtains closed on 300 years of urban history when the temple moved to its current location in October of 1932. Statues of the Kisshou Goddess of Mercy and Otoku-Jizo are set up in the quiet shrine grounds.
5.Musashino Hachimangu Shrine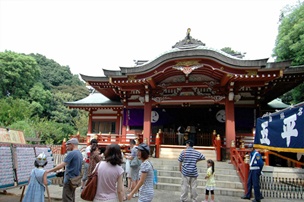 The famous Hachimangu Shrine, place of worship for the guardian god of Musashino. As the story goes, Sakanoue-no-tamuramaro enshrined the divine spirit in Usahachiman Shrine in 789.
Kichijoji used to be located in Suidobashi in Koishikawa. It was moved to its current location in Komagome after a major fire broke out in Meireki (1657). People who lost their houses around the gate at the old location were ordered to move to the area. When they arrived and established Kichijoji Village, they embraced Musashino Hachimangu Shrine as the shrine to their guardian god.
Oujin Emperor, also noted as the God of Bows and Arrows, is enshrined here. The grounds stretch over an area of about 1,300 Tsubo (4,300m2) with stately zelkova and camphor trees. People have trouble believing they are still downtown when they enter this quiet, imperial sanctuary.
In addition to the Hachiman God, another seven shrines are arranged to the right of the front shrine: Mishima, Izumo, Oshima, Itsukushima, Inari, Suga, and Housou.
Address: 1-1-23, Higashicho, Kichijoji, Musashino City
PHONE: 0422-22-5327 FAX:0422-22-5326
6.Anyoji-Temple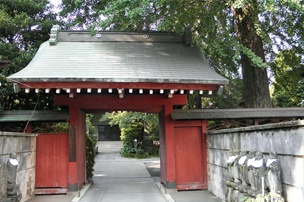 Gankouzan Kisshouin Anyoji-Temple is a tantric temple of the Buzan school of Shingon Buddhism. Its principal image is Cetaka. The general head temple is Hasedera-Temple located in Sakurai City, Nara Prefecture. By word-of-mouth accounts, the temple was founded in 1624 by Fuse Danjo, a descendant of Fuse Mikawa-no-Kami Danjo-Zaemon Yasusada. Yasusada was one of the 48 Hojoh generals and the castle governor of the former Odawara Castle. He took the name Shin-in-Houin after performing his tonsure (shaving of the scalp as a gesture of religious humility).
A land survey by lanterns was performed here at Musashi-no-Kuni Mureno. The highest point was determined as the center after slight high and low points were measured. A hermitage is thought to have once been built there. The principal image of Cetaka, the deity enshrined here, can still be viewed. Anyoji-Temple is a hallow ground of The First Pilgrimage Site of the Shikoku 88 Places in Tama. Many pilgrims visit the temple between spring and summer every year.
Kohshin Tower (1665) (Municipal tangible folk cultural asset) and six Jizos are placed before the gate. The temple bell (Municipal tangible folk cultural asset) is thought to have been cast from an Edo Era cannon with engraved inscriptions on the surface and carvings of two dragon heads. People throng in to ring the bell on new year's eve in commemoration of the passing year.
Shikendera-Temples
Kichijoji has been a town of temples for many centuries. Anyoji-Temple, Kosenji-Temple, Renjoji-Temple, and Gessouji-Temple –generically called the Shikendera-Temples – are all located nearby the Musashino Hachimangu Shrine. The crossing between Kichijoji-Doori and Joshidai-Doori was formerly called Shikendera. Incidentally, no shrines actually called Kichijoji are to be found in Musashino City.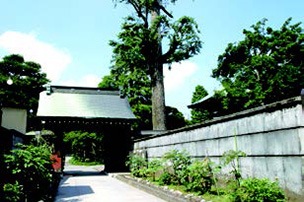 Anyoji-Temple opened in 1624. Shingon sect temple. The shrine bell cast in the Edo Era was fashioned with two dragon heads that originally formed part of a cannon. The many inscriptions engraved into the surface of the bell shed light on the technology of the original casting engineers from the Musashino area. Kohshin Tower and six Jizos are placed before the gate.
Address: 1-1-2, Higashicho, Kichijoji, Musashino City
TEL:0422-22-2248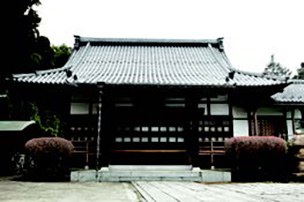 Kosenji-Temple, Jodo-shu sect. Infectious diseases were rampant in this area in the Kyoho Age (1716-1735). As the story goes, a chief priest on a pilgrimage set up Jizo in a Tansu modified miniature shrine to hold a memorial service and pray for the longevity of children. The statue of Tansu-Zizo is enshrined at the temple.
Address: 1-10-21, Honcho, Kichijoji, Musashino-City
TEL:0422-22-2262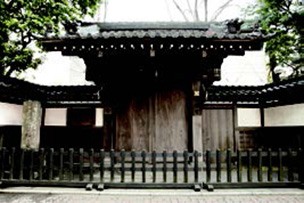 Renjoji-Temple, Nichiren-shu sect. The statue of Saint Nichiren enshrined in front of the main hall of the temple is a wooden seated statue holding a wooden mace in its right hand and a scroll of text from the sutras in its left hand. This figure, the Devil Remover, Nichiren, is famous as the guardian god of men and women at critical times of life.
Address: 1-10-12, Honcho, Kichijoji, Musashino-City
TEL:0422-22-2031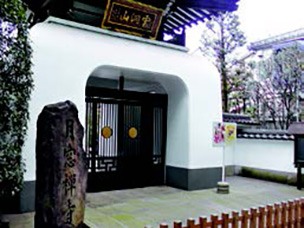 Gessouji Temple opened in Manji-2 (1659); Soto Zen sect temple: Established at the same time as Kichijoji Village. The Byakue-Kannon Seated Statue enshrined in the Kannon Hall on the left side of the main hall has the oldest inscriptions (1689) in Musashino City. The letters are inscribed in dry lacquer, a rarity among examples from modern art.
Address: 1-11-26, Honcho, Kichijoji, Musashino-City
TEL:0422-22-2345