A glass-walled office facing the street, 5 minute from the north entrance of Kichijoji Railroad Station by foot.
Musashino city urban tourism corp.
| | |
| --- | --- |
| Address | 1F, Musashino Chamber of Commerce and Industry BLDG, 1-10-7, Honcho, Kichijoji, Musashino City, Tokyo 180-0004 Japan |
| Mail Address | kanko_office@musashino-kanko.com |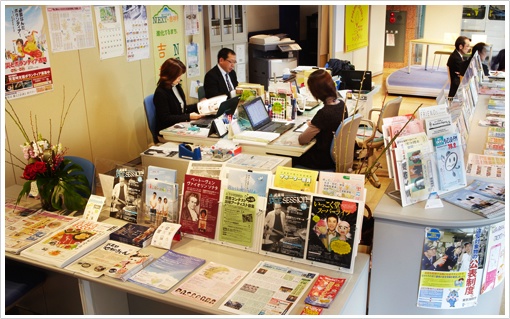 Kichijoji Machi Informational Center (atre Kichijoji)
General sightseeing information (visitor information, restaurants, events, guides, etc.) and digital signage with town sightseeing information are provided to activate and energize Kichijoji and its spirit of hospitality.
| | |
| --- | --- |
| Address | Hanabi-no-Hiroba, 1F, atre Kichijoji Main BLDG, 1-1-24, Minamicho, Kichijoji, Musashino City, Tokyo 180-0003 Japan |