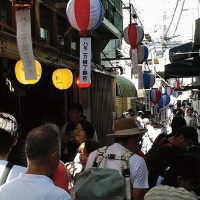 The genuine mood of Showa Era lives on in Harmonica Yokocho, a cluster of more than 100 shops lined up side by side in front of the Kichijoji Railroad Station North Exit. Locals come to this by-street alley to see the face of morning in Kichjijoji.
The Harmonica Yokocho Morning Market at Kichijoji first opened for business in this alley in June 2011. Locals today know it as the face of Sunday morning.
The shops and customers have rapidly grown in number year by year.
Visit the local neighborhoods to find the real Japan.
Sweets, handmade small products, vegetables, sundry goods, meals, reconstruction support, cafés, etc., are presented.
Steaming Ishinomaki fried noodles, the trademark meal of the morning market from its very first days. (The taste of religious austerity foods!)
Step into the narrow lane crowded with eaves, a scene from Showa Era Japan. Rub shoulders with jabbering locals and shopkeepers. Think of this step back in time as a journey through the 4th dimension. The feeling is magic.
Be sure to drop by on a Sunday morning. But remember, this isn't a place for late risers. Get up early and GO!
About Harmonica Yokocho
A yellow sign board "Harmonica Yokocho" is hoisted high above the corner of the north side of Heiwa-Doori street just in front of north exit of Kichijoji Railroad Station. The name was coined 20 years ago to describe the harmonica-like appearance of the narrowly gated two-story shops that stood in a row on the street. People call the block "Harmonica Yokocho" even today.
The old shops still crowd the block because zoning laws bar the construction of new buildings. Retailers such as fish shops bustle with customers in daytime and the restaurants come alive at night. This block retains the traditional tone of a local shopping street that has resisted urbanization.
A market that sprang up in front of the railroad station in 1945 was the root of Harmonica Yokocho. Some consider it to have been the first Black-Market after the war. There are now about 100 shops clustered together along the block.