Annual Events
Various events are held in Musashino City in every season. Why don't you come to enjoy the seasonal events and many charms of the Kichijoji, Mitaka, and Musashisakai areas?
Spring Events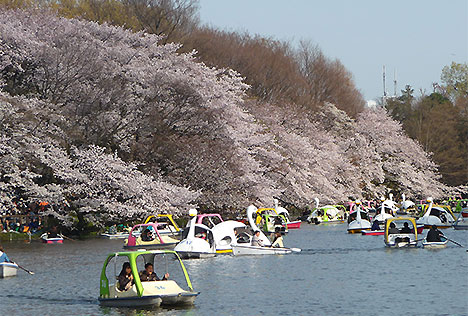 HANAMI-Enjoying the Cherry Blossoms of Japan

An introduction to HANAMI, a gathering of people to view cherry blossoms and appreciate spring. Learn why the Japanese love cherry blossoms and when the tradition of HANAMI was born. With related information on typical HANAMI viewing spots in Musashino City (Inokashira Park, Nighttime Cherry Tree Illumination on Chuo-Dori, etc.).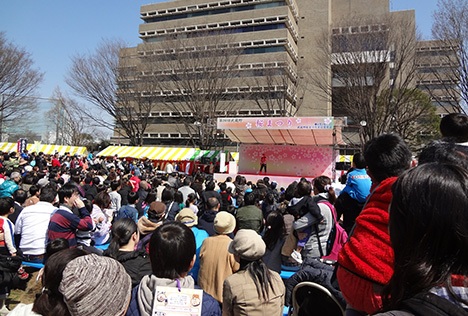 Musashino Cherry Blossom Festival

Parades and night-light constellations emblazon the majestic row of cherry trees along the central road and the front of Musashino City Goverment office. The site throngs with shops and special stalls carrying local products.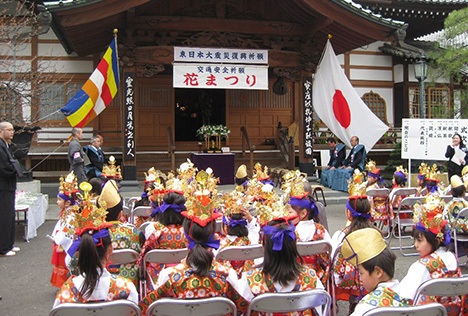 Kichijoji Flower Festival

An event to celebrate the birth of Buddha. The Buddhist memorial service is held at Gessouji Temple in Kichijoji. A procession of children parade along a circular route around the city together with a white elephant.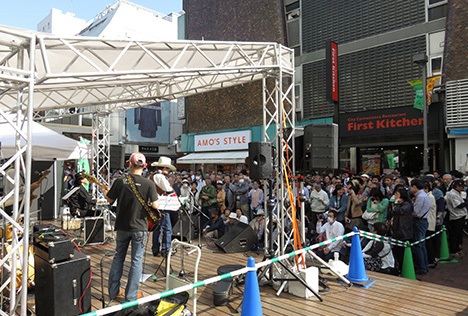 Kichijoji Welcome Campaign
Kichijoji Music Festival, and Daikisshou Lottery

Four major music events are held in all over the city: the JAZZ Concert, Kichijoji Music Contest, Super Stage and Park Concert. Local vendors also hold a gift certificate lottery. Gifts are redeemable on 19 shopping streets and in large stores.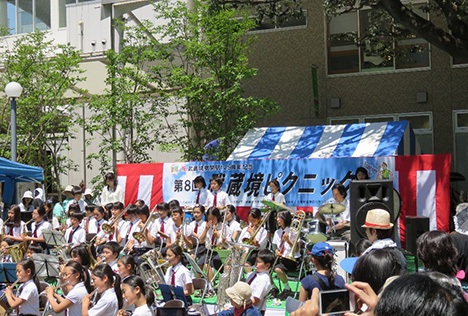 Musashisakai Picnic

Take Part in a Stamp Rally Shopping Spree with Event Currency and a map. Enjoy performances of Traditional Japanese Dance, Hula Dance, Japanese Drums, and Wind-Instruments, along with many booths serving local foods from different countries.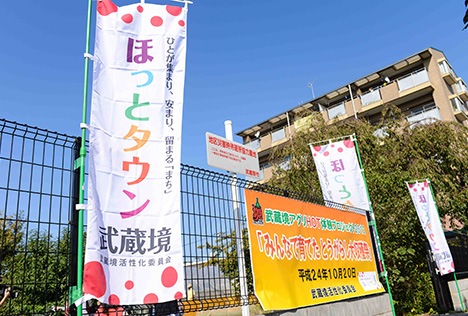 Agricultural Experience Project: Community-grown chili peppers

This is a participatory event held to spread awareness of the importance of the environment and food resources through hands-on experience performing agricultural work in touch with soil and nature. Participants plant nursery chili peppers in spring.
Summer Event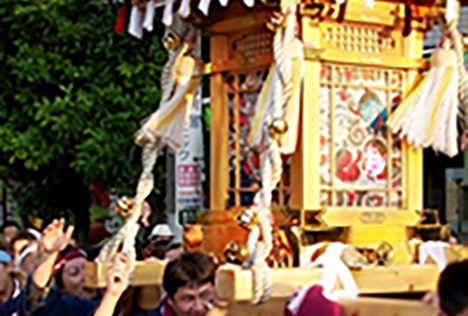 The Star Festival at the Sanya Street Shopping Association

Visit Sanya Street to see the Mandou-Mikoshi floats from 18:00, and test your skills at traditional arcade games such as Quoits and the Super-Ball Scoop.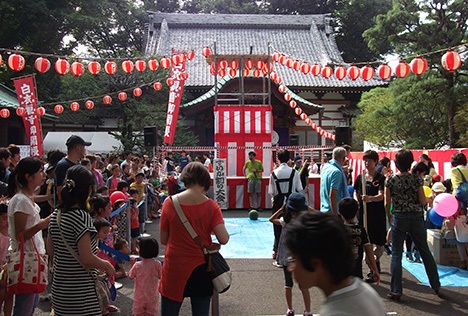 Bon Dance Event

Musashino City often holds Bon Dances/ Refreshment-stands / and Gaming Events.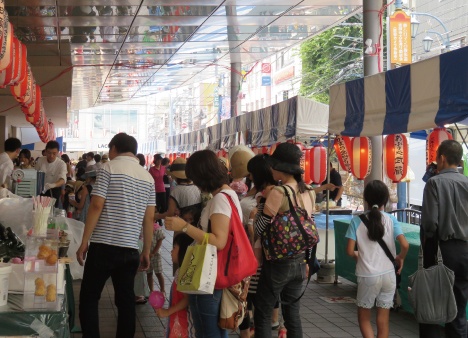 Summer Festival

The city holds many summer festivals in the months before and after the Bon Period. Visit the refreshment-stands and enjoy the Japanese summer.
Autumn Event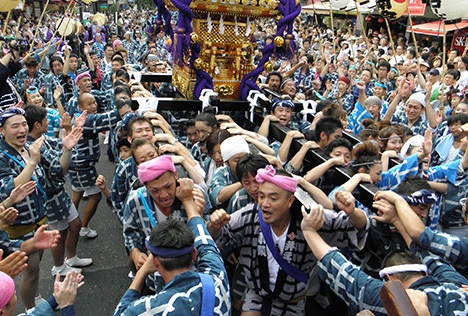 Kichijoji Autumn Festival

The Miya-Mikoshi parades from Musashino Hachimangu Shrine through every shopping street of the city together with the mikoshis of the town assemblies. Every team of Mikoshi-bearers has cultivated a unique cry of its own –a special attraction for experienced festival-goers. Eleven Mikoshis now make their appearances each year. The Sacred Horse and Musashino music festival are another two important attractions.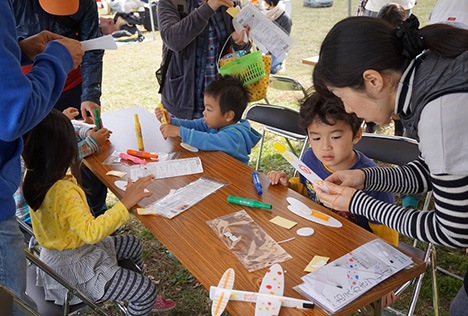 Model Airplane Festival

Make paper models of propeller and piston-engine airplanes at the park and then learn how to fly them on an expansive field. The event hosts measure flying times and issue certificates.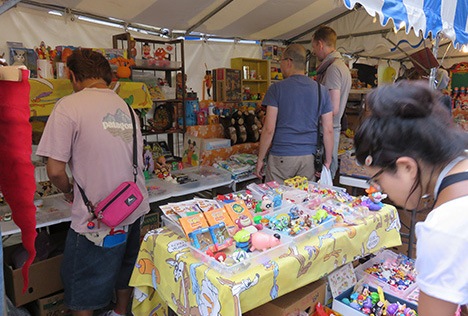 Welcome Campaign in Autumn; Kichijoji Animation Wonderland

Animation Event guest-hosted by comic artists, Kichijoji residents, and animation studios. The whole town celebrates the joys of animation at the popular toy market, plastic model-making event, and stage show at Inokashira Park.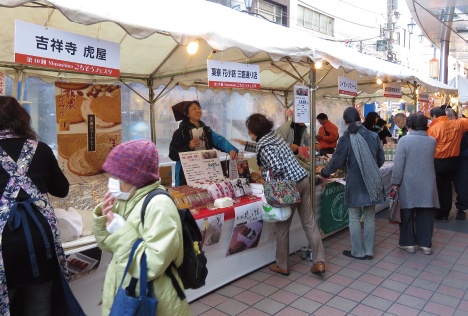 Musashino Gochiso Festival

Food Festival Introducing Special Products/ Musashino Rattlers –a gift from Musashino City to visitors; Musashino Local Flour Udon Noodle –a locally sold Udon noodle made from a hard-to-find Musashino flour.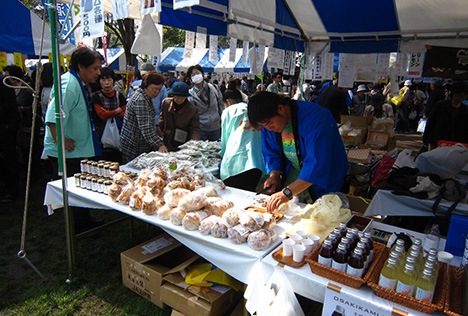 Outdoor Market

Stages are set up for various performances and vendors selling crafts, produce, local products from friendship cities, and recycled goods from citizen groups. The whole event is designed to be completely friendly to the environment. Some visitors come especially for the knife sharpening workshop (charged) and the live performance of public bath painting –two more celebrations of Mushashino's age-old traditions.
Winter Event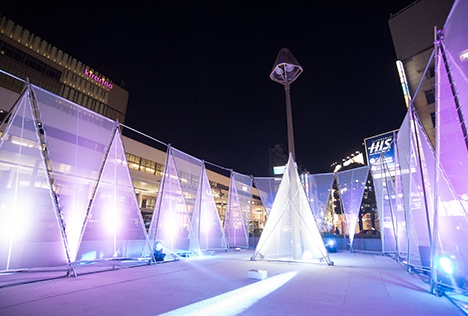 Light shows at three Railroad Stations

Romantic Light Shows Heralding Cold Winter Themes; Light show installations have been set up at three local railroad stations: Kichijoji, Mitaka, and Musashisakai in Musashino City. Enjoy your year-end, new-year festivities with these splendidly choreographed light stage arrangements.

Photo by Yukitaka Amemiya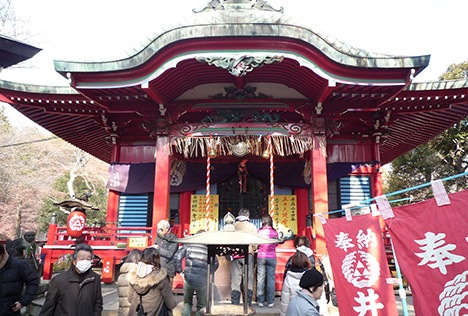 Musashino's Auspicious Seven Lucky Gods Tour

Pray for a year of good luck by taking a mini-pilgrimage to six temples and seven symbols of god around Kichijoji. Visit all of the temples and shrines on the list and have your signature board stamped with a read red seal at every stop.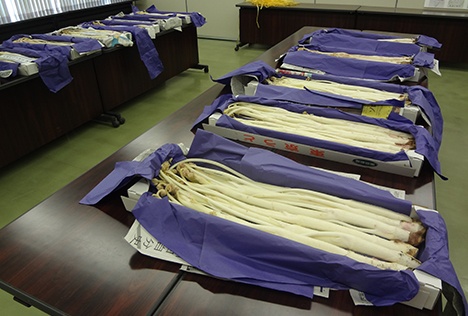 Musashino Udo Exhibition & Sale

Udo (Aralia Cordata) is a specialty vegetable from Musashino City with a fragrance that heralds the arrival of spring; Local producers at this Exhibition & Sale Event compete in an Udo-growing contest every year.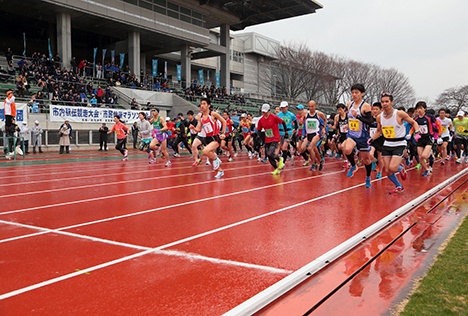 Musashino city Road Race

Musashino City Road Relay Race Event and Musashino Civic Healthy Marathon Event held on the first Sunday of March every year in Musashino City. Participants of all kinds with a shared love for running show up to exhibit their progress in speed and endurance. We dare you to take the challenge!