Enjoy your time in Kichijoji !
Musashino city urban tourism corp. would like to promote the many attractions of Musashino City by sending you information on events, culture, and city life.
Events
Pick Up Events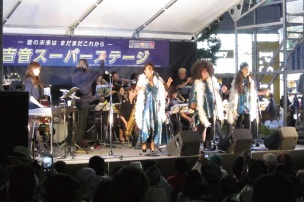 Planned for 2016; Kichijoji Music Festival from Apr.23 to May 8.
Spring Events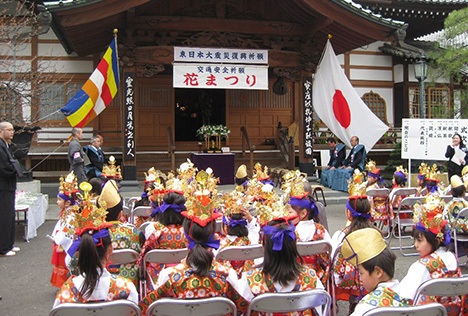 Kichijoji Flower Festival

An event to celebrate the birth of Buddha. The Buddhist memorial service is held at Gessouji Temple in Kichijoji. A procession of children parade along a circular route around the city together with a white elephant.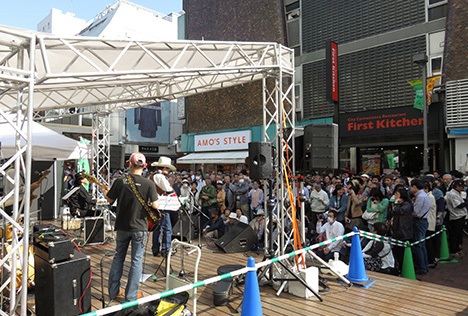 Kichijoji Welcome Campaign
Kichijoji Music Festival, and Daikisshou Lottery

Four major music events are held in all over the city: the JAZZ Concert, Kichijoji Music Contest, Super Stage and Park Concert. Local vendors also hold a gift certificate lottery. Gifts are redeemable on 19 shopping streets and in large stores.
Summer Events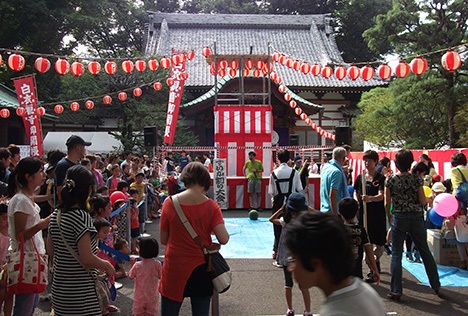 Bon Dance Event

Musashino City often holds Bon Dances/ Refreshment-stands / and Gaming Events.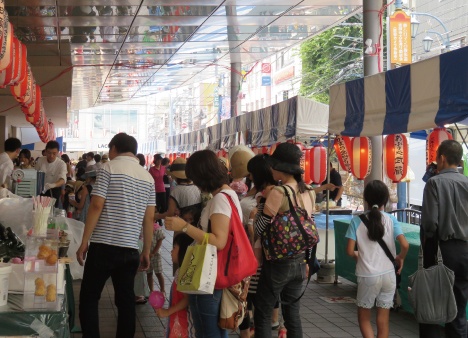 Summer Festival

The city holds many summer festivals in the months before and after the Bon Period. Visit the refreshment-stands and enjoy the Japanese summer.
Autumn Events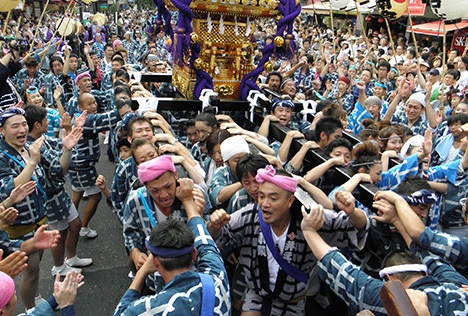 Kichijoji Autumn Festival

The Miya-Mikoshi parades from Musashino Hachimangu Shrine through every shopping street of the city together with the mikoshis of the town assemblies. Every team of Mikoshi-bearers has cultivated a unique cry of its own –a special attraction for experienced festival-goers. Eleven Mikoshis now make their appearances each year. The Sacred Horse and Musashino music festival are another two important attractions.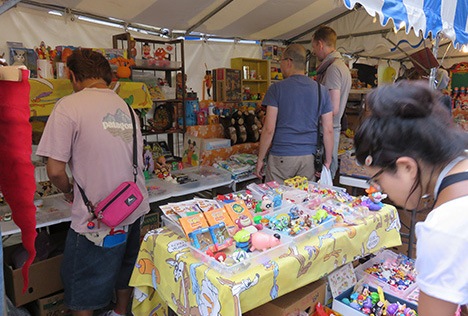 Welcome Campaign in Autumn; Kichijoji Animation Wonderland

Animation Event guest-hosted by comic artists, Kichijoji residents, and animation studios. The whole town celebrates the joys of animation at the popular toy market, plastic model-making event, and stage show at Inokashira Park.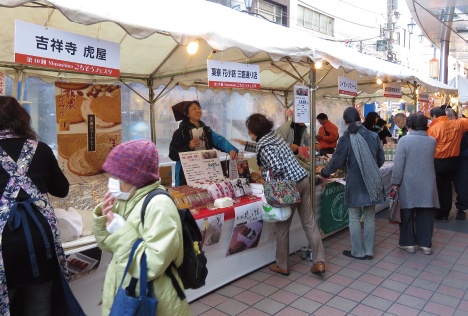 Musashino Gochiso Festival

Food Festival Introducing Special Products/ Musashino Rattlers –a gift from Musashino City to visitors; Musashino Local Flour Udon Noodle –a locally sold Udon noodle made from a hard-to-find Musashino flour.
Winter Events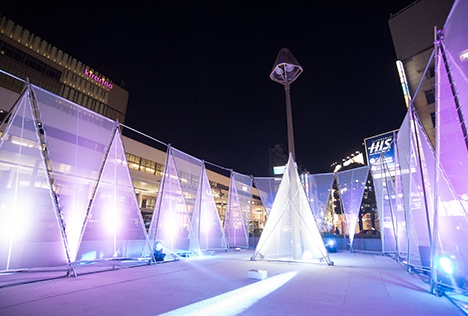 Light shows at three Railroad Stations

Romantic Light Shows Heralding Cold Winter Themes; Light show installations have been set up at three local railroad stations: Kichijoji, Mitaka, and Musashisakai in Musashino City. Enjoy your year-end, new-year festivities with these splendidly choreographed light stage arrangements.

Photo by Yukitaka Amemiya