Inokashira Park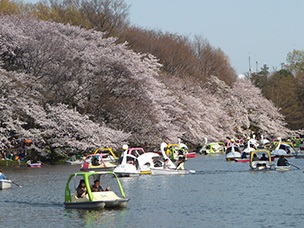 Municipal Park striding Musashino City and Mitaka City;
Opened on May 1, 1917; The park fills up with cherry blossom viewers when the flowers blossom every spring. Inokashira blooms itself at this magnificent time of year.
The lake view from Nanai-bashi Bridge is not your average nature scene. Inokashira Lake, Tokyo's highly reputed "fountain lake," became the source of Japan's first running water/ Kanda Clean Water. This manmade lake was built by the order of Tokugawa Ieyasu in 1590 to ensure drinking water. The water gate for water intake still remains at east end of the lake. A Well crib made of stone at the western edge is called "Ochanomizu" ("teawater"). Ieyasu is said to have ordered the water for tea at Edo Castle.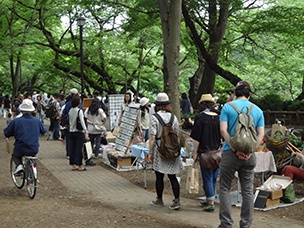 The area is said to have been named Inokashira in 1625 when the 3rd General Iemitsu carved the characters Inokashira into a magnolia tree at the edge of the lake in the area (Kanei 2) with his short sword on his way back home from a hawk-hunting expedition. Rich spring water from The Lake of 7 Wells spring dried up in the middle of the Showa Era. Since then the area has been watered from deeper wells nearby.
Benzaiten at the lake side is the only goddess enshrined at the temples and shrines of the Musashino Seven Lucky Gods Tour offered by the Musashino Chamber of Commerce and Industry. Benzaiten is said to have been established by Minamoto-no-Tsunemoto, the patriarch of Kanto Genji. The goddess crafted by Dengyo Daishi in 789 is enshrined there. The deity took the name Zeniarai Benzaiten for Victory Luck when the messenger Adachi Morinaga appeared in a dream with tidings of military victory, convincing Yoritomo to raise an army.
The grace of god is manifested as blessings of many forms, from prosperity to good fortune in marriage, easy delivery, the birth of good children according to the folk tale of the Inokashira White Snake, safety against natural hazards and other dangers on the roads, and so on.
The park, a wonderful place to appreciate the changes of the seasons, brings calm to the hearts of many visitors to Kichijoji. Street hawkers and performers come on weekends and holidays. Fun events are held all year round.
Information Center, Inokashira Park Zoo: TEL:0422‐47‐6900 FAX:0422‐47‐9371
Inokashira Cultural Natural Park
Children will surely be pleased to greet to the cute and cool animals on the way to the park.
Space-wise, this cultural natural park takes up about a third of Inokashira Park. The grounds are divided into the Zoo Area (Main Zone), with its Zoo and Sculpture Museum, and the Aquatic Life Park (Lakeside Park), with the Aquatic Life House, an aquarium with more than 200 species of aquatic life. The sculptor Seibo Kitamura (1884 = 1987) produced the Nagasaki Peace Memorial Statue in the Atelier House nearby. Some 250 sculptures are installed in the Sculpture Museum, including a number of bold works outdoors.